TBC Classic Powerleveling

| | | | |
| --- | --- | --- | --- |
| lv amount US: | SKU: | Price: | Qty: |
| lv1 | | +$0.51 | |
| lv2 | | +$0.51 | |
| lv3 | | +$1.07 | |
| lv4 | | +$1.07 | |
| lv5 | | +$1.48 | |
| lv6 | | +$1.73 | |
| lv7 | | +$1.73 | |
| lv8 | 32-35 | +$2.60 | |
| lv9 | 35-38 | +$3.06 | |
| lv10 | 38-41 | +$3.47 | |
| lv11 | 41-44 | +$3.93 | |
| lv12 | 44-47 | +$4.33 | |
| lv13 | 47-50 | +$5.10 | |
| lv14 | 50-53 | +$5.61 | |
| lv15 | 53-56 | +$5.61 | |
| lv16 | 56-59 | +$6.12 | |
| lv17 | 59-60 | +$7.14 | |
| lv18 | 61 | +$7.14 | |
| lv19 | 62 | +$7.65 | |
| lv20 | 63 | +$8.67 | |
| lv21 | 64 | +$9.18 | |
| lv22 | 65 | +$10.20 | |
| lv23 | 66 | +$11.22 | |
| lv24 | 67 | +$12.24 | |
| lv25 | 68 | +$13.26 | |
| lv26 | 69 | +$14.28 | |
| 27 | 70 | +$15.30 | |
| | | | |
| --- | --- | --- | --- |
| lv amount EU: | SKU: | Price: | Qty: |
| lv1 | 1-10 | +$0.51 | |
| lv2 | 10-15 | +$0.51 | |
| lv3 | 15-20 | +$1.07 | |
| lv4 | 20-23 | +$1.07 | |
| lv5 | 23-26 | +$1.48 | |
| lv6 | 26-29 | +$1.73 | |
| lv7 | 29-32 | +$1.73 | |
| lv8 | 32-35 | +$2.60 | |
| lv9 | 35-38 | +$3.06 | |
| lv10 | 38-41 | +$3.47 | |
| lv11 | 41-44 | +$3.93 | |
| lv12 | 44-47 | +$4.33 | |
| lv13 | 47-50 | +$5.10 | |
| lv14 | 50-53 | +$5.61 | |
| lv15 | 53-56 | +$5.61 | |
| lv16 | 56-59 | +$6.12 | |
| lv17 | 59-60 | +$7.14 | |
| lv18 | 61 | +$7.14 | |
| lv19 | 62 | +$7.65 | |
| lv20 | 63 | +$8.67 | |
| lv21 | 64 | +$9.18 | |
| lv22 | 65 | +$10.20 | |
| lv23 | 66 | +$11.22 | |
| lv24 | 67 | +$12.24 | |
| lv25 | 68 | +$13.26 | |
| lv26 | 69 | +$14.28 | |
| 27 | 70 | +$15.30 | |
Buy TBC Classic Powerleveling on bestboost.club
The Dark Portal is finally opening, the demons rush in to conquer our world, and it is we who must come to defend it! We offer you a quick introduction leveling with the release of The Burning Crusade Classic! We will help you skip the boring grind of leveling and get you right to the playing ground with dungeons and raids on the horizon! You'll be able to immediately start playing all that interesting high level content, fight for glory on the Arena, or mine and trade for gold viciously!
You will finally have access to the world of Outland, as well as flying within it! New factions to get acquainted with to get their favor and useful items. A dozen of new dungeons to go through and complete, including their Heroic difficulty! New raids with new bosses and mechanics for you to explore! And, of course, Player vs Player Battlegrounds and the First Arena Season! So much new content for players to explore, only in The Burning Crusade Classic!
Here is the approximate time needed to level a character on fast mode: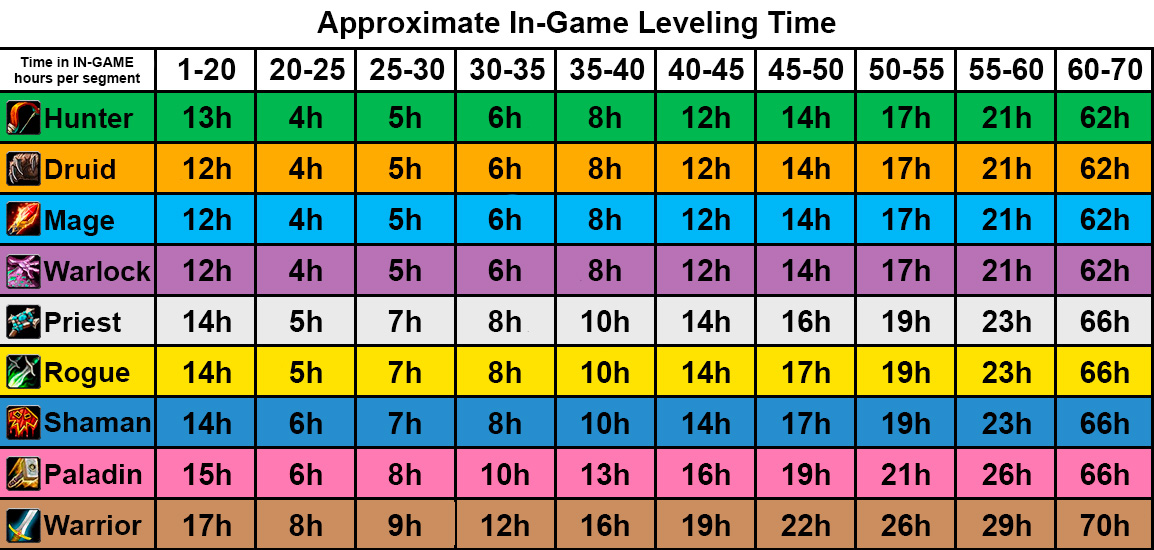 These calculations are a raw estimate and meant to act as an indicator of approximate time needed to level up on fast mode in different segments and should not be considered as an actual fact . Rested XP, breaks between boosting sessions and such are not taken into account.

---
What will you get for this service:

• We will get your character level from 1 to 70 as fast as possible. During the process your archetype will be taken through many quests on Outland until your character gets level 70.

• You can choose Normal or Fast speed to level your character. With fast speed leveling will be at least 30% faster.
• Boosters will use a moderate amount of gold to speed up leveling process on things such as: Repair, Flight Master, Talent Change, etc. All remaining gold will be left on the character, as well as all items obtained during the boost.
---
Requirements for ordering this service:

• This service is done only in piloted mode and requires account sharing.

Review - TBC Classic Powerleveling